20 years has passed since the Carson, CA emcee RAS KASS changed the history of west-coast hip-hop with the critically acclaimed debut album, "Soul On Ice". Un- fortunately, while its release was within the throws of Priority/Capital Records, the release of the record saw the album but not in its true form.
Two decades years after its initial release, we here at Cre8yte/Blackhouse are honored to present to you, the fully restored, re- mixed and remastered version of "Soul On Ice: Revisited". Complete with long lost tracks and remixes
This collection also comes with an additional 21 track bonus download of additional lost material, and unreleased straight-from-DAT-mastertapes, titled "Rediscovered. De- constructed.
https://raskass.bandcamp.com/album/soul ... onstructed
Soul On Ice: revisited X (Bonus) Rediscovered. Deconstructed.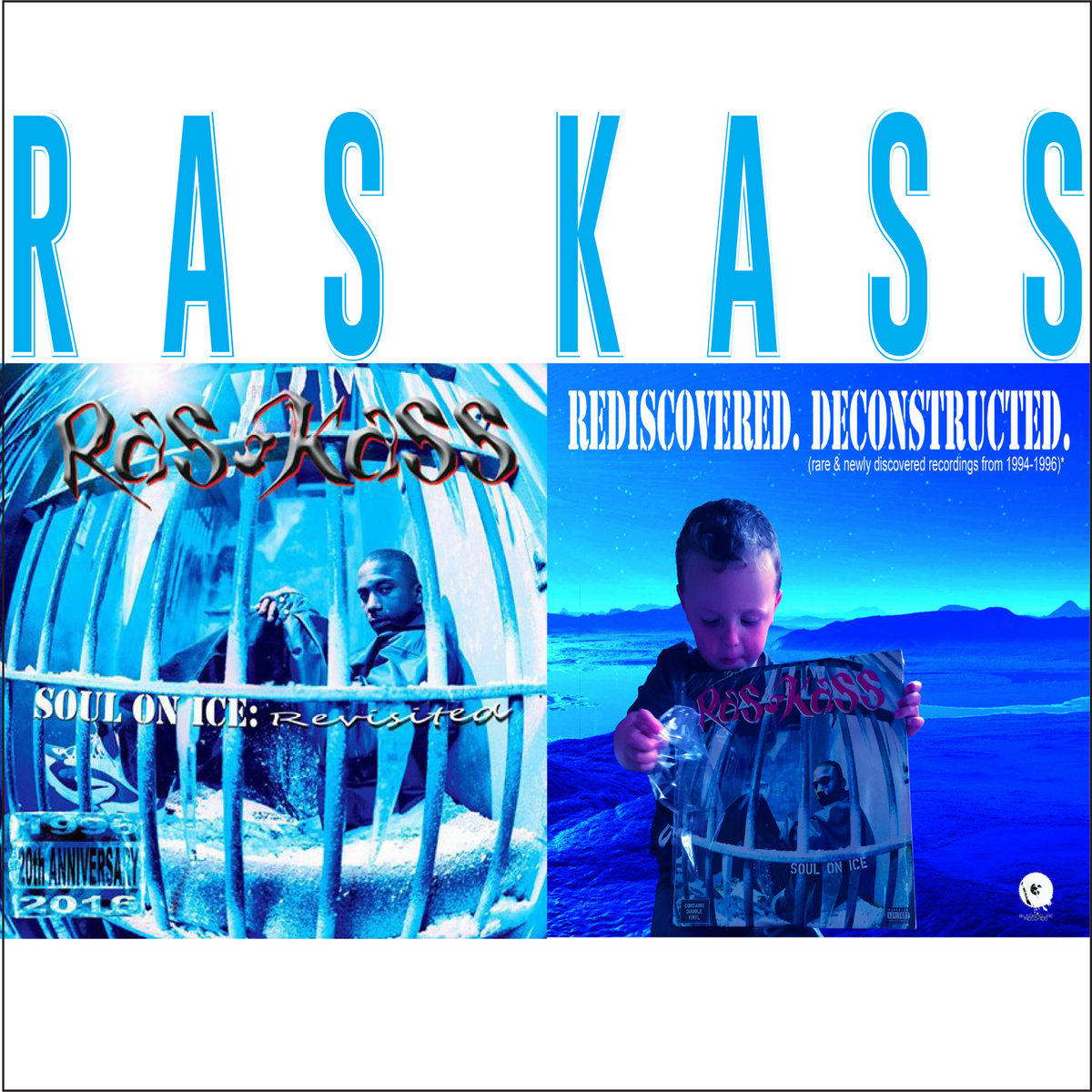 1.EISODUS (original intro skit) 00:47
2.ON EARTH... (J57 remix) 04:23
3.GURU NYC 96' 03:16
4.ANYTHING GOES (FELONY remix) 04:10
5.MARINATIN' 04:05
6.REELISHYMN 04:26
7.NATURE OF THE THREAT 07:43
8.ETC... feat JOELL ORTIZ (BEATMINERZ remix) 03:49
9.SONSET 05:58
10.DRAMA feat COOLIO (extended original verison) 04:38
11.THE EVIL THAT MEN DO 06:10
12.IF/THEN 04:45
13.MIAMI VICE (original unreleased version) 04:03
14.SOUL ON ICE (DIAMOND D remix) 04:10
15.ORDO ABCHAO (Order Out Of Chaos) 04:29
16.SOUL ON ICE 03:36
17.EXODUS (original outtro skit) 01:16
18.JACK FROST 03:46
19.WINO SPEAKS 02:14
20.LOST HEAVEN 03:50
21.bonus* MK ASSANTE NARRATIVE PT.1 02:51
22.bonus* LIVE FROM C ARSON FREESTYLE 01:04
23.bonus* WESTERN HEMISFEAR FT. VOOODU!!! MEAN GREENN 02:40
24.bonus* WAKE UP SHOW ANTHEM '94 02:21
25.WAKE UP SHOW LIVE (w ODB, RZA, LIL CEASE) 00:26
26.bonus* REMAIN ANONYMOUS 03:56
27.bonus* COME WIDDIT (FREDWRECK REMIX) 04:24
28.bonus* NOSE JOKE (skit) 00:39
29.bonus* ANYTHING GOES (NASTEE remix) 03:55
30.bonus* MK ASSANTE NARRATIVE PT2 01:34
31.bonus* LABEL PROBLEMS (skit) 00:49
32.bonus* THE MUSIC OF BUSINESS fea XZIBIT 05:21
33.bonus* WONT CATCH ME RUNNING (MOET MIX) 03:35
34.bonus* UNDERSTANDABLE SMOOTH 04:05
35.bonus* NIGGAZ 04:27
36.bonus* BIRD.DB (skit) 00:48
37.bonus* SKINS 02:58
38.bonus* EVERYTHING I LOVE (previously unreleased) 04:19
39.bonus* RAPEOLLO (skit) 00:44
40.bonus* NOBODY BUT ME ft Ina 02:59
41.bonus* UNITY SHOW THANKS YOUS 01:52