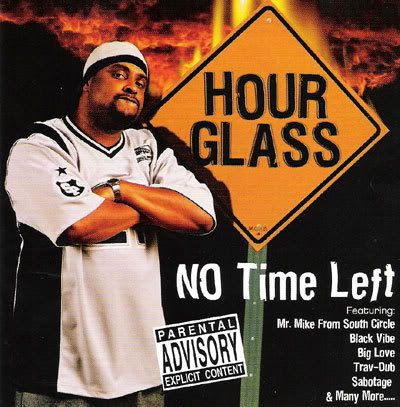 01 Life Intro
02 Focus
03 Another Life
04 2 Birdz 1 Stone ft. Wilmack Faulkner
05 Hold Ya Grip ft. Wilmack Faulkner
06 I Don't Know ft. Wilmack Faulkner
07 Captain Hata
08 Playaz vs. Hataz
09 If You Want It ft. Skitzo, Big Love & Black Vibe
10 Heart ft. Casandra Brown, Big Love & Trav Dub
11 You Don't Want None ft. Relentless, G & Big Love
12 Southern Twang ft. Black Vibe
13 Hip Hop Love
14 You Don't Have To Ball ft. Double O & Big Love
15 Don't Run Away ft. Trav Dub & Big Love
16 Stay Ready ft. Mr.Mike
17 Sick & Tired ft. Pooh Styles, Big Love & Wilmack Faulkner
18 Life Time Warranty ft. Satsiri & Sabotage
19 Hate Me
20 No Time Left
21 Universal - Hells Kitchen
2005 Life Support Records
Zweites Album von Hour Glass !! Hab noch das Debüt Album ''Tha Sandz of Time'' aus 2001!! Bei Zeiten scann ich mal das Cover und poste die Trackliste!!
Zu ''No Time Left'', cooles Album!!!

_________________
STAY TRUE AND HOLD UP 4 MY OWN
I KNOW THAT I'M WRONG
BUT I KEEP ROLLIN ON!!
"GZ 4 LIFE PROMOTIONZ..REALEST OF DA REAL"
http://www.youtube.com/user/Gz4LifePromotion
HATERS CUM IN PACKS, REAL NICCAS COME ONE DEEP!
https://www.facebook.com/Gz4LifePromotion
https://www.reverbnation.com/gz4lifepromotion