Interview: Syndicate Gangstas
Das 1998 veröffentlichte Album "Down Wit It" von den Syndicate Gangsters dürfte mit zum Härtesten und Kompromisslosesten gehören, was Baton Rouge in Sachen Gangsta Rap zu bieten hat – und das soll was heißen. Auch der von Dirty Harry Productions bekannte Akseann gehörte seinerzeit zum Line-Up der Crew, doch die Fäden zogen andere. Namentlich: Big Hustler in der Rolle des Hauptrappers sowie Vito, der Mann hinter dem roughen, dunklen Trademark-Sound der SG's. Anlässlich ihrer überraschenden Reunion nach 20 Jahren haben sich die beiden die Zeit für ein kurzes Interview genommen. Neues Material ist bereits erhältlich. Neben einem remasterten Re-Release von "Down Wit It" mit zwei exklusiven Bonus Tracks ist dieses Jahr das zweite Album der Syndicate Gangstas erschienen. "Bad Influence" enthält größtenteils bislang unveröffentlichte Aufnahmen von und mit Big Hustler, Vito, Lucky und Akseann, darunter auch eine Nachbarschaftskollabo mit C-Loc. Und das nächste Album ist schon in Planung.
What's up, please introduce yourself.
Fuck yeah this is Vito and Big Hustler. We are from South Baton Rouge, Louisiana. Vito is the soul producer and Hustler and I both are the protagonists behind All The Way Live Entertainment. We are cousins, we are family.
When and how did you decide to enter the rap game?
Well, we went into a hydroponic deal growing, you know what, but at the same time we invested in some equipment and started in the rap game and it took over from there.
Did you put out any music before the Syndicate Gangsters CD?
No, we did not.
I liked Zell's performance on the CD alot. He was only 17 at the time, right?
Zell was dope but he is no longer in the group. He was from New Orleans. We don't know his age but he did state he was 17. At the time we were looking for features and he passed the test and ended up on the album.
Just like M.D.?
M.D. was a guy we met from The Flats, that's more south of Baton Rouge (editor's note: Lafayette, LA). You know, music is entertainment so we find features to make the album more presentable.
What about Ak Seann's nationwide deal with DHP, were you also in talks with them?
Akseann had a barcode on a demo and we had "Down Wit It" but it had no barcode. We had a promoter in the studio looking for acts and Akseann got the deal. But we had no dealings with Dirty Harry.
How do you remember the day "Down Wit It" was released in 1998?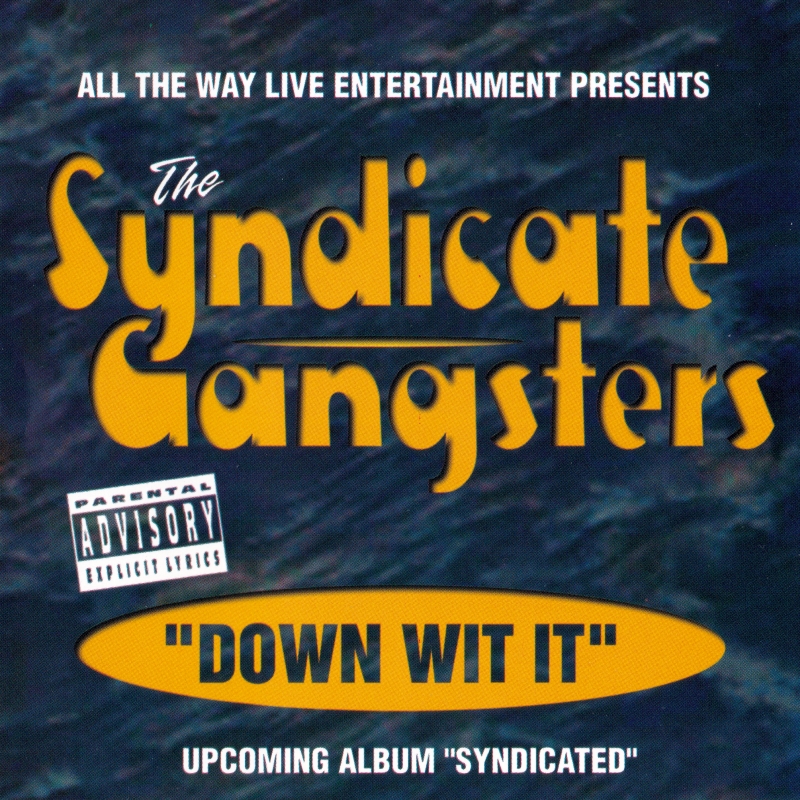 Man I don't remember that shit, it was so long ago…  we just got fucked up and high and made music. We didn't get much media coverage at all, we just pushed our shit on the streets. We got a wop of CDs and tapes and sold them by hand. 1000 CDs and 500 tapes.
Were you satisfied with the reaction you were getting?
Yes indeed, people were taking top artists out of the deck popping in the SG's.
"Down Wit It" sells for high prices on the internet nowadays…

Hey, when I saw our old shit for 270 for a CD and 150 for a tape we tripped out like damn! But it's all good. That's why we remastered "Down Wit It" and added two extra songs.
Which song means the most to you and why?
The songs with Charlie on them mean the world to us cause he is resting in peace. He was also our cousin. Charlie's rap name was Charlie Hustle aka Lucky. He was the lead on "Time To Build" and "Once Knew Charlie" and he is on several songs on "Bad Influence". It's been about 15 years ago when he passed. After Charlie passed, shit fell apart and everybody went separate ways.
Your recent comeback really took me by surprise – how did that come about?
Akseann put us back together, dealing with a text message from you.
Tell me about "Bad Influence", what can listeners expect from the album?
Same old gangsta shit.
How did you get in touch with C-Loc?
Just an old nigga from the hood I messed around with in the 90's, the Bigg Dawg C-Loc.
Are there any other local rappers you're cool with like Joker P, Bottom Posse…?
I know a few local rappers but I stray away from them due to violence. It's a crazy game. Yes I have heard of Joker P, he is a south side legend like C-Loc.
Introduce your studio, what do you use?
Our studio has changed since things have changed with recording. We are using an Apple Mini with a midi controller. I'm not into pads, I like keys – this is Vito talking. It's a very small set up. I'm using Ableton Live 10 with plug ins and VST sample sounds and so on.
So, what do you have in the pipeline?
We are working on new shit. "Bad Influence" was alot of unreleased cuts. We in the lab everyday, working. We have thought about pressing up hard copies of our upcoming album. It's on the table but not sure as of yet.