Interview: Quietus Khan
15 Jahre im Geschäft, drei Soloscheiben und die nächste schon längst in der Mache – keine Selbstverständlichkeit, dass es für Quietus Khan so gelaufen ist. Überraschend selbstkritisch geht der Rapper aus Waco im Interview nochmal seine hinter Gittern gestartete Musikkarriere durch. Wir haben uns über seine aktuellen Projekte auf Texas Family Entertainment unterhalten, aber auch viel über die frühen Jahre und das Debütalbum "Yesterday Will Make You Cry". Die ein oder andere interessante Side Story inklusive.
Let's start with the year 2000: tell me about your overall situation when you just were released from prison.
I was released from prison on February 17, 2000 after serving 8 years for attempted murder. I was 17 when I committed the offense and 18 by the time I was sent to prison. Quietus Khan was manifested inside of prison – as well as my affinity for words, my thirst for knowledge, my quest for truth, my oratorical skills, my passion for righteousness, and my drive to find and fulfill my purpose. Which I honestly believed has everything to do with my music. So I wrote all the time. I battled rappers from all over on the prison wreck yards, and I never lost. I learned a lot while incarcerated about myself, and about people in general. I learned that freedom and trust are just concepts to keep us hopeful. And I learned that God really does exist. Because he showed me when I was spiritually discombobulated behind bars. I was about 26 when I was released… I stayed with my Mom. Had nothing after 8 years and was just hoping to make music to make money.
How did you get signed to King Hustla Records?
I was never legally signed to King Hustla Records. Tapp Water is actually my cousin. He was serving time about the same time I was for drug charges in a separate case. We never met in person until we both were out of prison. He got my number from my mom I think and called me early one morning to say he had started a record company with Reggie "PayDay" Harris and was working on his solo CD, and he wanted me on it. He later said he wanted to put my solo album out on his label, too. I was greatful and still am for what he did. Tapp Water started my career. And "Yesterday Will Make You Cry" changed my life.
Have you been featured on any other local releases before your appearances on the"Ghetto Pharmacy"-Album?
"Ghetto Pharmacy" was the first distributed CD I was ever on. "Yesterday Will Make You Cry" was never distributed to my knowledge. Tapp Water is more of a hustler than a business man. So after my album was pressed, it was up to me to move it because I basically left around that time. King Hustla never promoted or marketed "Yesterday Will Make You Cry", but somehow it has made it all around the world. I started working with other local artist after my album like Hustler E, KT Cool and others.
Please share some thoughts about your debut album.
"Yesterday Will Make You Cry" is my most well known album, even though to my knowledge it has never been distributed through the system. I have seen copies of it being sold online for as much as $100. I have the access to my masters, so releasing it through my label wouldn't be hard at all. But the times have changed and so have I in a lot of ways. Most of the album was songs I wrote in prison. So there was a lot of anger, animosity and frustration involved during the writing process. You can hear it in the tone of the songs. It's the most personal album I've made so far. I kinda lost some of the integrity in my music over the years. I think I tried too hard to be accepted by the mainstream at times, so my music suffered. Being older and wiser and more spiritual has restored that integrity. So my new album I am currently working on "From Ni**as To Gods" will be vintage Quietus Khan. And I am very excited about it. I will set a release date once I'm close to mastering the album.
There was this highly talented dude named J-Rock that was featured throughout the whole album. Could you give me some more information on him?
When and why did you part ways with King Hustla Records?
I left King Hustla because my cousin Tapp Water was more of a hustler than a business man. And that didn't work for me. We are family. So we still talk and have love and respect for each other. But business isn't likely going to involve the two of us together any time soon.
Tell me about the production process of the "Patience"-album. How did you get in touch with producers such as Scott Storch or Cool & Dre?
At the time I was working with Scott Storch and Cool & Dre I was signed with a independent label in Miami called DNA. The label bought eight beats from Scott and two from Cool and Dre. Scott Storch was actually having talks with DNA to sign me to his production label, but he later had a issue how a conversation we had about a song he produced went. So I went on to be independent and in control of my masters. I am positive God wanted it this way for me. I was also signed to the same label DNA in a group called Starting 5. We had a single we were trying to get picked up by radio produced by Scott Storch titled "One Drink". The group consisted of me and four other rappers – Nubawn from Jamaica, Seba from Argentina, Arnez, a Cuban from Jersey and Propa TY from Miami. We made a full album, it hasn't been released yet. It is awesome material. I may release it through my label. You can probably find the song "One Drink" online.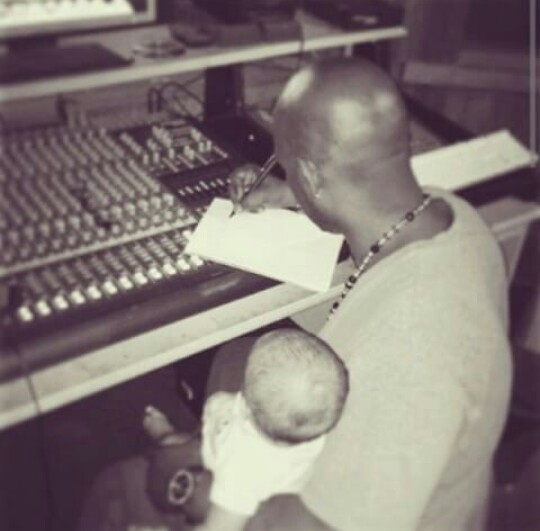 What's the main difference between "YWMYC" and "Patience"? How did you evolve as an artist?
The difference between "YWMYC" and "Patience" was growth. I grew. As a man, as a artist, and I grew spiritually and mentally. I was free to travel and see things. After "YWMYC" I didn't release another solo album for almost 10 years…thus the name "Patience". I didn't intend for it to be so long between projects but living my personal life took up a lot of my time. I lost my first son, in and out of bad relationships, hustling to live, moving a lot. Music kinda got put on hold for a minute. "Patience" is more industry influenced than I should have allowed it to be. "YWMYC" was a lot more underground and prison influenced. They are both great albums in my opinion. But to me "YWMYC" is in class by itself. I can make another "Patience" on my worst day, but I will never make another "Yesterday Will Make You Cry".
What else have you been up to with Texas Family Entertainment within the last years?
Texas Family Entertainment is a label I started in 2010 with a guy name D. Sadler. We ran the company together for four years. In 2014 I ended our partnership and I am now the sole owner of the company, now based in Miami, Fl. Last summer my company Texas Family Entertainment released 3 different projects: a compilation titled "American Success Story" or "A.S.S.". I released a double CD with Hustler E titled "Intelligence And Intimidation" and my third solo album titled "F.O.C.U.S.". I have several mixtapes on Datpiff.com My most recent mixtape is "The Game and The Gospel". I have a few others coming soon. I am currently starting to pick tracks for my new album "From Niggaz To Gods". I am very excited about the ideas I have for this album. It may be the closest I come to "YWMYC".  I will be releasing one last collabo CD with a Hispanic artist from my hometown Waco, Tx. His name is Big Gibz. The CD is titled "Brown Pride, Black Power". It should be complete by April, God willing.
Tell me about your affiliation with Hustler E. How did you get to know him?
My relationship with Hustler E started a few months after I released "YWMYC". An artist we both knew introduced us and we hit it off immediately. He's been my mentor in so many areas of the game… music, hustling, life. Our friendship is deeper than rap. We are both real street guys. Both stand-up guys and the streets can vouch for us both. I have the highest respect for him as a artist, as a hustler, as a business man and as a O.G.
What are your plans for the future?
My future plans, God willing, is too to keep evolving and learning. I pray I am able to retain most of what I know I will learn as life goes on. I want to do more non-profit work. Especially involving the homeless. I want to keep doing motivational speaking. I really enjoy that as much as performing my music. I love sharing my trails and triumphs. I want to begin my autobiography. And I would love to have my anthology of poems and short stories published. Above all I want to make a difference with my music more than I ever have. God willing I shall.
Where can listeners from Europe buy your music?
Most of my music can be purchased on line at the normal music downloading sites: I tunes, Spotify, Rhapsody,etc. Google would probably help people find more of my music than I can. *laughs* But the official Quietus Khan website will be up and running  soon so people will be able to get it directly from me as well. I encourage the people in Europe to give my music a good listen. I know they will not be disappointed.