Interview: Black Widow
Mit "Lyrical Intrapment" hat sie 1997 als erste Fort-Wayne-Rapperin überhaupt ein komplettes Album veröffentlicht. In unserem Interview gibt Black Widow einen Rückblick auf ihren Lokal-Klassiker und erinnert sich, wie es damals in der Rapszene der Stadt aussah. Außerdem: alles Wissenswerte über ihren weiteren Werdegang, den Umzug nach Indianapolis vor ein paar Jahren und das neue Album, das sie gerade in der Mache hat.
Black Widow, it's great to have you on here. You've been in the music business for quite a long time, so I thought it would be interesting to do a career recap. What was the very first song you recorded in a recording studio?
Thank you very much for having me. Yes, it's been a long time. My first track recorded in a studio was "Something New" featuring Jay. I was supposed to be just recording a single. Then it turned into an album from the label's decision.
Your debut album "Lyrical Intrapment" was released in 1997. How did you get signed to Keith Peterson's label KLP Records?
I met Keith through some other artists that worked with him previously. We set up a meeting, then next thing I knew I was in the studio.
How do you remember Fort Wayne and its rap scene in the mid 90's era?
It was fun, it had meaning and substance. We all worked together. You had actual fans that would come out and support and participate in the shows. The dream was alive and real. The projects had passion and heart.
Which local rapper's music was bumping out of cars and clubs in the city back then?
Wow……let's see. You heard House of Hemp, Mr. Shoe Dog, Emcee Cooler, Super Natural, and so many more I'm forgetting. I will say I was inspired by them all in some type of way.
Let's take a closer look at your debut album. Tell me how the recording process went.
I had mostly features on my album. I've always been that way. Always wanting to include people and make the most of it. It's a rush that I feel when you have different artists giving off different energy. I love it. Makes the vibe feel different on each track.
How would you describe the sound of the album?
Midwest/Westcoast. At that time I was really developing my skills and style. No track sound the same, my delivery was consistent I believe. I've always had passion, anger, feeling, sharp tongue and hostility in my voice. Always wanted to make sure I got my point across.
How did you get to know Mr. Shoe Dog, who produced some of the beats?
The album was generally produced by Jerome Hindmon. We were in the studio having major problems with some of the tracks. Jerome could not stay at the studio because he was moving out of town. So, only a few tracks came out correct. Mr. Shoe Dog already had an album in the stores and doing well. We reached out to him to produce the tracks we lost. He stepped in and did the job well.
Please introduce the artists that contributed to the project: Lil Zag, Double-Up, O.E. and female rapper Poettess. Who are they and where are they at today?
They were artists from my way that I thought were dope, and wanted to work with. I actually still keep in touch with most of them. They're still around. Poettess still does music. She changed her name to Tara Rain. The guys have families and some are more into the spiritual side of things.
Were there any other releases from KLP Records?
No, just that one album.
Besides your feature on Psyclops' "Belly Of The Beast" album, I don't know much about your musical activities in the late 90s and early 2000s. Can you give me a short overview?
I moved to Atlanta in 1999. Before I left, at that time I was working on an EP produced by Aaron Cook in Indianapolis. We didn't finish on the count I was leaving for school. When I got to Atlanta I was more focused on building my network. I had to learn quick that it was business and not music. So, I really started studying the industry and how it worked. I found myself more interested in the business than music. I always loved helping and educating other artists.
You moved to Indianapolis later on. What's the biggest difference to the rap scene in Fort Wayne?
I don't think it is a big difference. Artists are doing the same thing. Just like anywhere, you have rappers and artists. Squads and cliques. It use to be some slight tension between us, but I will say I've worked with some very talented artist and engineers from Indianapolis. Also, some very talented artists and engineers from Fort Wayne. If we could work together I believe we could blow this thing wide open.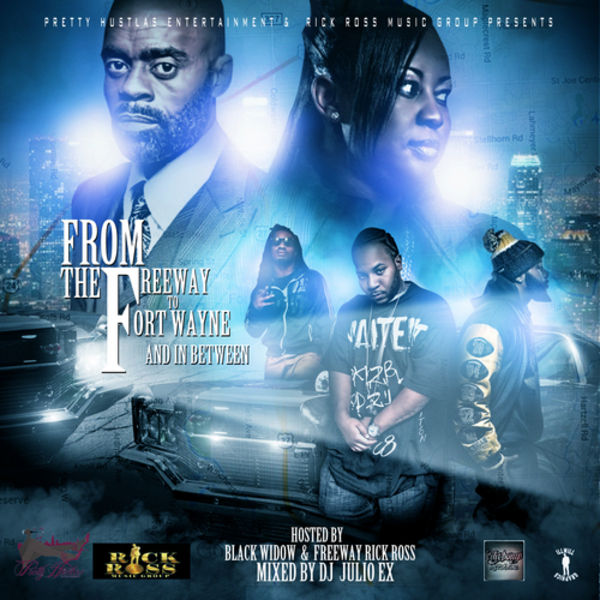 In 2014 you dropped the mixtape "From The Freeway To Fort Wayne" – what did you bring to the table this time?
That was a project Freeway Rick Ross was doing. He was trying to help as many indie artists as he could. So, his nephew approached me with the idea and I took it and ran with it. I was going to do the mixtape by myself and then thought why not have some other Indiana artists as well. Some artists don't understand that their city in Indiana can't validate them alone. We're not that big or popular. Its going to take the whole state to support you or you can go elsewhere and build your buzz.
In 2010 you started your label Pretty Hustlas Entertainment. What have you been up to with the label within the last years?
A lot has changed. It started off with PHE because being a woman myself I wanted to build a foundation with women in mind. To show the world us as women can do it as well. The ladies that did start with me ended up doing other things. I actually had to go back to the drawing board. Take some time for myself and really figure out what it was I really wanted to do. It seem like everything was falling apart. So, I revamped everything and changed the name to Big Jake Entertainment. The name came from my cousin Jabron Totton who was killed. That was his nickname, he was the first to record me when I decided to get back into music. So, it had a lot of meaning to me.
You also worked with artists like Linque and Marvaless. How did that come about?
I was put on to Marvaless by my late producer Spyda the Wise Musician who died a couple years ago. Even though I've been playing her music as long as I can remember. We have a good vibe together. She is someone I can call and get advice from. I reached out to Linque and told her I wanted to feature her. I sent her the track and she loved it. The track is called "Get It" and I'm looking to put it on my new project.
How does your current label roster look like and who do we have to look out for?
Right now I'm focused on myself. I want to lay a good solid foundation before I put time and money into someone else. I want to have a lot more to offer than just recording and putting music out. Once I lay the foundation, trust me Big Jake Entertainment will be unstoppable.
You told me that you're working on a new solo project – any details yet?
Yes, I'm very excited about it. Been giving it my all. I don't want to cheat my true fans and just put something together. I want to make classic music, something with substance and meaning. You'll be able to relate to and understand and feel my pain, joy, struggle, laughter and so on. These kind of projects take time. I've been blessed to meet and work with some major industry engineers. Its all about the sound of the music. That's what separate the majors, locals and indies. The sound has got to be A-1.
Where can people find you on the internet? And is there anything I forgot to ask?
Twitter: onlyblackwidow, Facebook: Black Widow, IG:thablackwidow, Snapchat: officialblackwidow. I believe you covered everything. I just want to say thanks for having me and a special thank you to Germany. I promise you're in for a treat.