Interview: DJ Style (The early years)
Producerveteran DJ Style aus Kansas City im Interview über den Hustle seiner frühen Jahre. Ausgehend von den beiden Underground Tapes mit Dragi D – den wir hier letztes Jahr schon im Interview hatten – geht es einmal quer durch die 90er Jahre: von seiner legendären "Best Kept Secrets" Compilation über die Arbeit mit Gruppen wie Nnutthowze, Arsenal/Heavyweights und Who Wride bis zur Beteiligung am Durchbruch eines gewissen Tech N9ne.
It's little known that you used to live in Germany as a kid. Tell me about your time in Europe.
I moved to Germany when I was 5 and spent the next 6 years living in Prüm, near Bitburg on the Western boarder near Belgium. I loved Prüm, it's where I first discovered my creative side. I used to draw all the time. I even won a contest for drawing the Basilica in Prüm, it was the first acceptance of my creativity by others. Prüm was also where I fell in love with music. My father introduced me to many kinds of music. Some of my favorites were ABBA, Boney M and Queen, but my first love was classical music, which I still love to this day. After Prüm I moved back to the U.S. for 3 years, living in Blackwood New Jersey. While in New Jersey I discovered and fell in love with Hip Hop, it hit me like a speeding train, capturing my soul deep down. It was 1983 and I started break dancing, feeling, loving and embracing the B-Boy culture of the time. During my return to Germany at age 14 I was living in Hessisch Oldendorf, near Hameln in North central Germany.
Were you involved in the local Hip Hop scene?
I was part of a B-Boy crew performing at local shows and it was at Hess that I started to learn to DJ with my best friend Ced, better known these days as Ced DJ The Scientist. Our crew had 7 of us in it and 4 of us went into music professionally in some form, 2 went into drawing and graphics arts and the last member has his PHD. I returned to Kansas City, where I was born, at the age of 17 and within a few years started making music with Dragi D.
How do you rate your early 90's productions for Dragi D from today's point of view?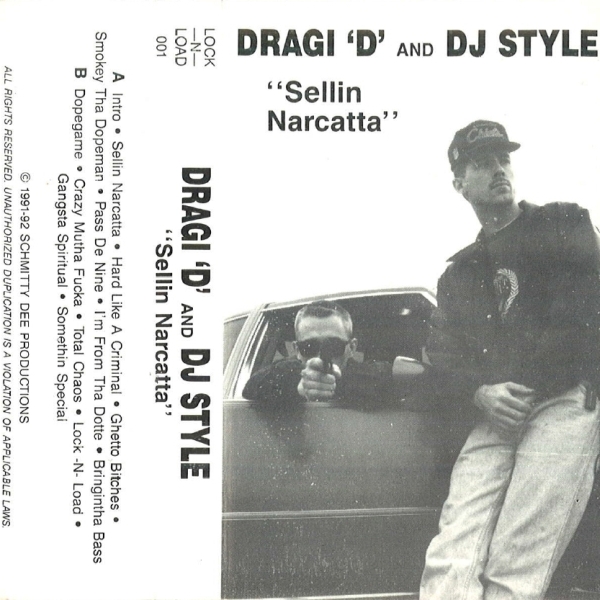 I had zero musical training, I just felt it in my soul and I was determined to make music by any means necessary. While I could not play much, discovering an Ensoniq Mirage sampler was a blessing for me as I had a large vinyl collection from DJ'ing, and I collected different strange records like plays, story tellers, Doctor Demento and Alan Lomax. So I would sample anything that moved me or inspired me. So if it gave me goosebumps, I sampled it, and that's how we made "Robin Hood" or "Another Dead Homie", from goosebumps *laughs*. From today's point of view my production was raw, all over the place and full of samples.
1994 was a crucial year in your career. How difficult was it to reset your career after your split with Dragi D?
Most don't know it but Drag and I had a third full album finished when we split. It was called "Blue Eyed Devils" but it was never released and up until then it was my best production work. As we were the main group doing music in KCK, after we split, it was super easy to get other rappers attention as they knew I was serious with doing a compilation CD, but I did have help. My friend Brian Dennis put me in touch with Joka from a group called Arsenal, that was later renamed The Heavyweights and whom I worked with for 15 years. I had known Joka from school, so we clicked, and I also clicked with his partner JRoc instantly. Most of the guys on "Best Kept Secrets" were friends of theirs. Tony D was a friend of mine and Papa Calv came around later with Zkiercrow (editor's note: pronounced Scarecrow).
Tell me about the recording process.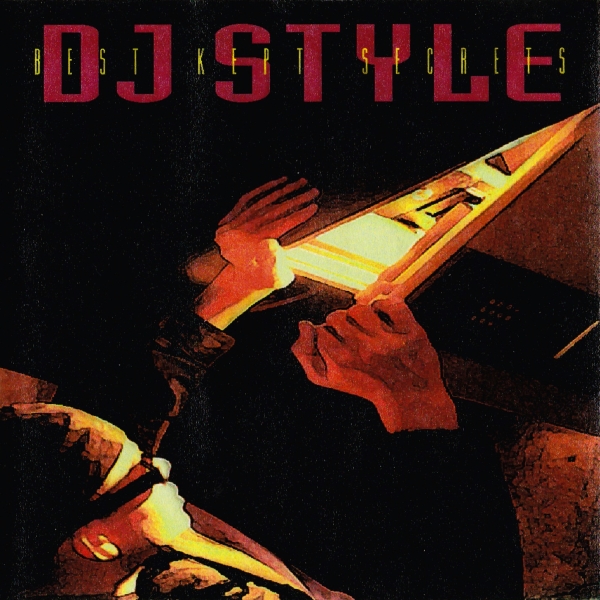 I produced "Best Kept Secrets" mostly with Omar at my studio on an Ensoniq EPS then EPS 16 plus, a Yamaha 4 track and a Digitech effects processor. We used my Styrofoam booth I made cheaply using toothpicks, and recorded everything on an AKG 535Eb mic. It came together quickly, and I loved the ability to produce for many different rappers as we could work faster and everyone wanted something different, keeping it fresh. Brian did the graphics for me, a trend that continued for many years until his death. I was tired of seeing my face on my album covers, so I asked my friend Mace to be in the picture opening the safe for me, so no that's not me on the cover. I used Rainbow Records in LA to press up the CD and tapes. We pressed up 2000 CD copies, 1000 tapes, sold almost all of them all over KC, mostly hand to hand.
Have you ever thought about releasing the last album with Dragi?
I would if I could, but all the Dragi D and DJ Style master tapes were lost in my move to Atlanta in 2007, so "Blue Eyed Devils" is lost to time.
How did you become a member of the Nnutthowze?
To understand how I ended up in the Nnutthowze click, we have to go back to 1989. I was working at Indian Springs mall in KCK at the time, and one day I'm wearing my Public Enemy shirt when this guy asks me about PE. We get into a full on conversation about Hip Hop, and he realizes I'm very serious about music, that guy was Brian Dennis. Brian later takes me to meet Icy Roc in KCMO down in the Roc Pit studio. It was at Roc's studio that I realized I could make my own music and go from being a DJ to a producer. It was very inspiring. So then I move to Lawrence and team up with Drag for a few years; when Drag and I later break up I connect back up with Brian, who helps me on "Best Kept Secrets", where my sound quality and work ethic impress Brian. It's 1993 and around that same time Brian takes me back to Icy Roc's. But now I've released three indie albums and Brian wants me to help Roc and a young rapper named Tech N9ne improve their sound quality in the Roc Pit. Tech and Roc are at the time signed to Jimmy Jam and Terry Lou's famous Perspective A&M Records in Minneapolis, and managed by Darrin Story (that's another story). As the label's first rap act they are in limbo and things are not going well and were just sent back from LA. At the time Roc was one of the hottest producers around, but coming out of Kansas City was a very uphill battle. So Roc and Tech welcome me with open arms because of Brian. So I start hanging out in Missouri at the Roc Pit and it was a great change of pace from all the street music I had been around.
… and this constellation eventually evolved into the group?

There was a small group of creative people always around that eventually becomes what is now known as Nnutthowze. It was Roc (Producer), Tech (Rapper), Dynomac (Hype man), Brian (Graphic Arts), Troy (Graphic Arts), Phlaque The Grimstress (Rapper), Lecoya (Poet and Tech's girlfriend), Agginy (Rapper), Zkeirdcrow (Rapper), Punch (Dancer) and me. Next thing you know we start sharing ideas, books, music, everything as we were all weirdo music lovers just connecting in all creative ways. It was a great creative environment and we became family, there for each other in any possible way. After Roc and Tech are dropped from Perspective, Nnutthowze is born as a fuck-the-industry group, full of weirdos from the Roc Pit…… it was awesome to witness and amazingly inspiring for me. The talent in that studio was special and still to this day holds a big place in my heart and is a part of everything I create. Any Nnutthowze member is welcome at my house, anytime, as long as they remember what trash stick is *laugh* For me, this was also the time when Roc told me I had to stop sampling in my music. I had a lot of work to do in my creating as I was not a natural musician, but Tech always encouraged me to keep at it. I would bring Tech my tracks for critique, but at the time I just was not good enough to compete with Roc, but I kept working every day. I helped improve Roc's studio sound quality, weather it was rewiring the studio or lending my gear. I also helped with providing jumpsuits for shows, transportation, food, cash or ideas, I helped out in any way I could as we were family, all connected to something special, 6688846993 forever.
There are alot of rumors about a mysterious unreleased Nnutthowze album…
Yes, there was a full Nnutthowze album of music, it was to be titled "Welcome To My Asylum" but it was never released. At the time there was a lot of discussion about releasing it but we were split, as half wanted to wait and shop for a major and half wanted to release it indie. Brian and I were in the indie camp and were willing to put up money needed to release the album, but the group split apart before and final decision was ever made. Roc still has all the masters and I've been attempting for over 10 years to finish it up with him – maybe one day.
The next project was your album with Who Wride. How did you get to know these guys?
Well, Tony D was my friend from "Best Kept Secrets" and he introduced me to Loon Toon, who was from LA. It was 1995 and we just clicked, so TD had the idea to do a group and Loon named us Who Wride. As Nnutthowze was falling apart at the time (another story) and Tech was starting to mess with Diamond and Don Juan at MidWestSide Records, I thought a Who Wride project sounded fun, so we started working. Loon lived with me while we worked on the album. I worked 10-12 hours a day at the day job, then Loon and I would be up all night working on music. I was very proud of that project as it represented the first time I played all my production without sampling, I even played some talk box with Roc's help. Tech came through on two dope songs and Eric, a friend of TD's, produced two songs for us. For me this was my fourth project I released indie and I was very excited about the album's potential. Brian did the graphics and came up with the cover cartoon while Troy took the pictures. We hit a big problem when Loon went to prison for robbing a pizza delivery guy a few years earlier, so another great situation fell apart. I produced my work on that album on an ASR10, 1 blackface ADAT, Roland R8 MKII, Roland D10, and AKG 535EB mic. I also worked on the Heavyweight's "Hick Life" at this same time with the same gear at my place.
How were you involved in the making of "Hick Life"? The credits just say "produced by Arsenal".
I recorded and mixed the whole "Hick Life" album at my home studio while Joka and Omar produced it at my studio. I was never sure why I was not credited, but that happens way more than most know. If you pull up "Who Wride" and "Hick Life" they sound very similar sound wise, because they were both being made at the same time, on the same gear, engineered by me, at my place *laughs*. The only difference is we added a Roland R-70 drum machine on the last few songs for "Hick Life", as Joka really loved the R-70 sound, while I loved the R8 MKII.
How did you reconnect with Tech after the Nnutthowze project hadn't worked out?
I didn't have to reconnect with Tech as we saw each other regularly during this time. This was the period that Tech and I hung the most, wether it was a movie at the new West End theaters, a ride to meet up with some girls, or music. All Tech had to do was call and I was there for whatever, no questions asked. Tech was always the one that I took my tracks to, that never stopped, and as the Who Wride project developed he wanted on it. Tech's positiveness about my different style of production and belief in me was what kept me working so hard, as I didn't want to let him down. This was also the time Tech started working with Don Juan at MidWest Side, he was attempting to bring Nnutthowze members with him, but Jon Juan had other plans *laughs*
Tell me about the making of "Now It's On".
As to "Now It's On", I had moved back to Lawrence in the late Summer of 96 and later came up with this crazy idea to re-make 'Moments In Love", as it was a B-Boy favorite of both Tech and myself. I just wanted to make it a little harder edged, so Tech could flow hard to it. I started with the "Wickid Wickid Now It's On" from Tech's "Mitch Bade" vinyl acapella that Tech gave me as his first MidWest Side release. From there I built the track, replaying "Moments In Love", then adding the verse synth especially for Tech, with that knocking 909 tight kick from my R8 MKII and side as a snare, to keep it peaceful and to contrast Don Juan's loud snare style in the songs he was making with Tech at the time. I was wanting to hear vocals in the song while creating it, so I added part of the famous speech from the movie Patton LP, as General George Patton was one of my childhood heroes, and it gave it a serious edge I loved and hoped Tech would be inspired by. I gave a copy to Tech on cassette, he loved it and teamed up with Lejo on it, as Lejo was also with MidWest Side at the time. I drove down one day, pick Tech and Lejo up in KC. Then record the song in Lawrence at my place, in my tiny studio. They cut the song on the AKG 535EB/Mackie 1604 chain, in my half closet around a bunch of clothes *laughs*. It was a blast, and we all knew it was a special song. I dropped them off in KC and a few days later deliver the mix, everyone was buggin on it.
What impact did the song have at the time?
Tech later told me they were heading out to LA to shop for a deal and "Now It's On" would be the lead song to be played, which I thought was cool, but I was just glad to help him out. So they head to LA and some months later he calls me and says they were heading back out to LA, and that he finished another song called "RedNecro" to another one of my tracks and "Big Bad Wolf" to my replay of "Tainted Love" that I half timed and killed. Some months go by and Roc calls me and says Tech was picked up by Quincy Jones and under Warner Brothers. What I don't find out until a few years later is that "Now It's On" was being played in rotation at K-Day in LA as Sway and King Tech loved it and had been blasting Tech on their "Wake Up Show", helping Tech get signed and land him a feature on the star packed Sway and King Tech song "The Anthem". I never knew about it all, as nobody mentioned a word to me *laughs*. It was funny as in 2000 when I first went to LA myself, I cold called Julio G, the LA radio personality, on air, tell him who I am and he has me come down to the station then and there just so he could meet me, as it had been a big mystery who made "Now It's On" *laughs* The song is famous in some underground circles to this day and most people are surprised to find out I created it.